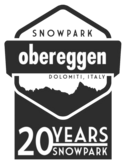 Obereggen Snowpark
Obereggen - Pampeago - Predazzo / Latemar
© www.f-techconstruction.com
© www.snowpark.obereggen.com
© www.snowpark.obereggen.com
© www.f-techconstruction.com
© www.f-techconstruction.com
© www.f-techconstruction.com
© www.snowpark.obereggen.com
Obereggen is only 20 driveminutes from Bolzano away. The snowpark in Obereggen is a park for everyone. More than 40 structures in all kind of dificulties. There are kickers, boxes, rails, jibs, a halfpipe and a boardercross-slope.
F-Tech Snowparkconstructions plans, builds and takes care of the park during the season with the help of to shapers and a snowcat. F-Tech guaranteed a high quality standart in safety and function of all structures and obstacles.
News for this season are a esay up-straight-down box, a long easy-kinked box, a easy-straight box, a easy-up box, a medium-up-down tube and a medium-straight tube.
---
Schnee- und Parkstatus
Leider keine aktuellen Parkinformationen vorhanden.
Aktuelle InformationenВчера, 15:47
---
Obereggen Snowpark
Высота над уровнем моря

2032 m

Длина

650 m

Площадь

90.000m²

Сторона света

SW

Elemente

32

Area

the set-up 2014/2015:
Halfpipe (80 m, 4,5 m) 11 Kicker (2 – 16 m) Fun Box, Mini Spine, Roller Flat Box, Down Box Kinked Box, Rainbow Box Up Box, Straight Box Kinked Box, C-Box A-Frame Box, Rainbow Box Kinked Rail, Down Rail Straight Rail, Wallride
Mila Milk Box (Special) Up double Tube, Fun Tube Lines: Easyline / Mediumline / Proline Boardercross Banked Slalom All new Kids Setup Nuove Strutture: Starship (Pyramide).

Nightpark set-up 2014/2015:
Down Box Kicker Bank Down Tube Butter Rail Wave Box Rainbow Wave Box Kids Up & Down Box Up & Down Tube

All new kids set-up:
The Obereggen snowpark did not forget about the smallest and beginners. In cooperation with F-TECH an all new kids set-up got installed at the park entrance.

2 Easy Kids Kickers, KIDS Straight Box, KIDS Rainbow Box, KIDS up & Down Box, KIDS Wave Box.

Elemente

tabletop Kicker

knuckle, 10m table

tabletop Kicker

knuckle, 16m table

tabletop Kicker

16m table, 28m landing

takeoff Waveroller

10m table

straight Rail

7m long

kinked Rail

flat-down, 8m long, 6cm wide

straight Rail

down, 13m long, 11cm wide

up down (Rail)

7m long

straight Rail

5m long

straight Box

flat, 5m long

straight Box

down, 7m long

kinked Box

flat-down, 9m long

rainbow Box

flat, 6m long

kids (Box)

2m long

up down kids (Box)

wallride Specials

1m flat (Kicker)

knuckle

2m flat (Kicker)

knuckle

3m flat (Kicker)

knuckle

tabletop Kicker

knuckle, 4m table

tabletop Kicker

knuckle, 5m table

tabletop Kicker

knuckle, 6m table

straight Box

3m long

kinked Box

flat-down, 5m long

curved Box

5m long

a-frame Box

4m long

rainbow Box

3m long

straight Box

up, 3m long

half Pipe

80m long, 4.5m high

Mini Spine (Specials)
Starship (Specials)

Pole Jam (Pipeslide)
---
Weitere Informationen
Schneeerzeugung

30 m³/Сезон

Schneekanonen

4

Pistengerätestunden

250 Часы

Шейпинг-часов в сезон

500h

Link
Park Size

L

Total

29

Easy

8

Public

21

Pro

0
Park Designer

F-TECH Johannes Gögele

Head Shaper

Tomaso Zorzi
Веб-камеры