Wattens
564m
567m above sea level; pop. 7,607
No other town in Austria is so dominated by one family business as Wattens. Think of Wattens and you think Swarovski. Year after year, millions of visitors from all over the world head for the Chamber of Wonders, known as Crystal Worlds, a creation of André Heller. All are taken aback by the amazing collection of cut crystal. Cultural events such as "Music in the Giant" or the "GiantChildrenGame" for young children have transformed Crystal Worlds into a vibrant centre. Wattens has other attractions to offer, including Austria's only typewriter museum. Marvel at over 450 different examples of the machine that dominated communications before the era of the email.
The Museum for Industry and Prehistory provides some fascinating glimpses into the growth of industry in Wattens, into the town's prehistoric past, the urnfield in Volders, while the Himmelreich open-air museum takes visitors on a journey back in time to the 5th century BC.
Wattens is also home to the only typewriter museum in Austria. Presented in a contemporary style are over 450 fully-functioning typewriters from the Jörg Thien collection. They cover the period from 1884 to the present day, providing some fascinating insights into the development of the typewriter. Cut-away models allow visitors to inspect the internal mechanism.
If you're on the move by bike, you can hardly miss Wattens, as the Inn Cycleway passes right through the village. There is one firm date in the summer diary summer for fairy-tale fans, both young and old. The Myths and Legends Festival in the mystical fairy-tale forest brings back to life fairy-tale characters much-loved in the German-speaking world, such as Kasermandl, the Salige Fräulein and other mythological figures.
If you stand amid the excavations of the Wattens Himmelreich prehistoric site and cast a sweeping eye over Wattens, then inspirational thoughts will surely spring to mind. You will be able to imagine how people lived over 2,000 years ago, how far they had developed and how carefully they laid out their village.
It was inhabited from the 4th to the 1st century BC, but was then destroyed by a fire. The Himmelreich open-air museum is accessible to all at all times.
Bikers, walkers and nature lovers will find plenty of leisure pursuits to enjoy, a famous one being the Inn Cycleway, which passes through Wattens on its way from Innsbruck to Passau.
Available for you in Wattens tourist office:
Innsbrucker Straße 2
A-6112 Wattens
wattens@hall-wattens.at
Opening times: Tuesday–Sunday: 10–17 Uhr
Monday closed
---
---
Советы для досуга Wattens
Показать все советы по организации досуга
---
Контакт Wattens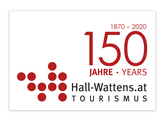 TVB Region Hall-Wattens
Unterer Stadtplatz 19, A-6060 Hall in Tirol
Телефон

Начальная страница
E-Mail
Запрос и Заказ проспекта Проживание
Населенные пункты Ferienregion Hall - Wattens
Подвесные канатные дороги Работа в летнее время
Найти жилье Wattens
18 Предложения и Паушальные суммы
Предложения и Паушальные суммы Wattens
Веб-камеры