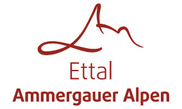 Ettal - Graswang - Linderhof
877 - 2.185m
Where faith moves mountains - in delight....
Overwhelming: there´s no other word to describe the spectacle which unfolds high above the nave of Ettal Basilica: a 25-meter-wide fresco stretching across the cupola of this Baroque and Rococo jewel, created by local artists and architects.
Leaving the exuberant saints and angels behind, you can come back down to earth in Weidmoos or Graswang valley, whose unspoilt landscape invites guests to hike, cycle or climb in summer and to go cross-country skiing in winter. Since outdoor activities help you work up an appetite, you´ll find an abundance of Ammergau delicacies in Ettal´s inns, as well as lots to wash them down with at the monastery´s brewery and distillery .
You can even visit the Brewery Museum, learn about the history and production of Ettal beer specialties and take a guided tour of the distillery, which will initiate you into the art of liqueur making. Our latest attraction is a dairy open to the public: here we share the secrets of our fine Ammergau cheese tradition.
At Linderhof, the intricately laid-out park blends seamlessly into the landscape, and the magnificent little palace sits graciously atop a hill with a broad view overlooking the surrounding mountains. Delicately ornate yet imposingly grand, this neo-rococo jewel box enchants not only romantically inclined souls. Each room is an experience, each view a poem.
Outside, one strolls past the golden statue of Flora and the fountain that spouts water 30 meters high… Hidden in the park are the Moorish Kiosk, the Venus Grotto, the Hunding´s hut…At Linderhof, myths and legends become reality!
source: www.ettal.de
---
---
Советы для досуга Ettal - Graswang - Linderhof
---
Контакт Ettal - Graswang - Linderhof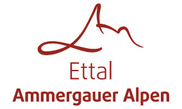 Gemeinde Ettal
Ammergauer Str. 8, D-82488 Ettal
Телефон

Факс

Начальная страница
E-Mail