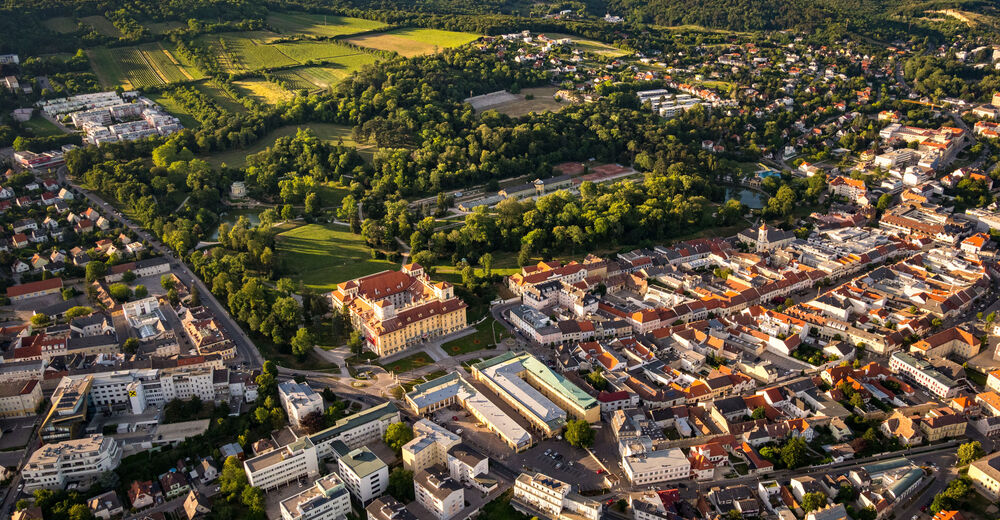 Time spent in Eisenstadt is time well spent
The capital of Burgenland, one of nine Austrian states, is situated at the foot of the Leitha Mountains. The town of 14,000 inhabitants is one of the smaller capitals in the Austrian federation. Eisenstadt certainly lives up to the saying "the best things come in small packages". The former residence of the Esterházy princes has a lot to offer to its visitors.
Eisenstadt captures its visitors because it has a unique flair.
Some highlights of any visit to Eisenstadt are the Esterházy Palace, the Haydn Church (also known as "Bergkirche"), the Haydn-House, St. Martin's Cathedral or the Palace Park, the park adjacent to the Esterházy Palace. Formerly designed as baroque garden, it was re-designed around 1800 to resemble an English landscape garden.
The city of Eisenstadt looks back on an eventful history that attracts many visitors every day.
The old town, which counts many listed buildings, forms the core of Eisenstadt. Countless visitors stroll through the pedestrian zone every day, either to do some (window) shopping or to relax over a good cup of coffee.
Come and open up to the charms of the "Haydn Capital of the World", let Eisenstadt transport you!
Aside from history and culture, Eisenstadt also lives up to the challenges of a modern city and thus is able to meet the needs of its visitors. Numerous coffee houses, inns, shops and leisure time options make Eisenstadt and its two subdivisions, St. Georgen and Kleinhöflein, truly pleasant to visit.
Kleinhöflein lies at the western end of the city and is a wonderful wine-growing community counting about 1000 inhabitants. Up on a hill, visible for miles, there is the late gothic church, consecrated to St.Vitus; the church dates back to the 15th century. At the end of June of each year Kleinhöflein takes centre stage in the city's life and invites you to celebrate its annual parish fair, also known as the Vintner's Fair.
St. Georgen, to the east of Eisenstadt is also called the "Grinzing of Eisenstadt". Countless so-called Heurige, inns that serve the wines made by the vintners who open their doors, made this part of Eisenstadt famous throughout the land. Attila's rock, a Roman tombstone dating back to the 1st century C.E., is the hallmark of this village.
Time spent in Eisenstadt, the capital of Burgenland, is definitely time well spent. Visitors will find anything they need to have pleasant holidays: the down-home atmosphere of a small city, an infrastructure that is up-to-date, a comprehensive cultural and leisure time programme and - last but certainly not least - the warmth and sincerity of its inhabitants!
---
Советы для досуга Eisenstadt
Показать все советы по организации досуга
---
Контакт Eisenstadt
Tourismusverband Eisenstadt Leithaland
Hauptstraße 21, A-7000 Eisenstadt
Телефон

Факс

Начальная страница
Населенные пункты Neusiedler See

Поставщик спортивных товаров Eisenstadt
Веб-камеры