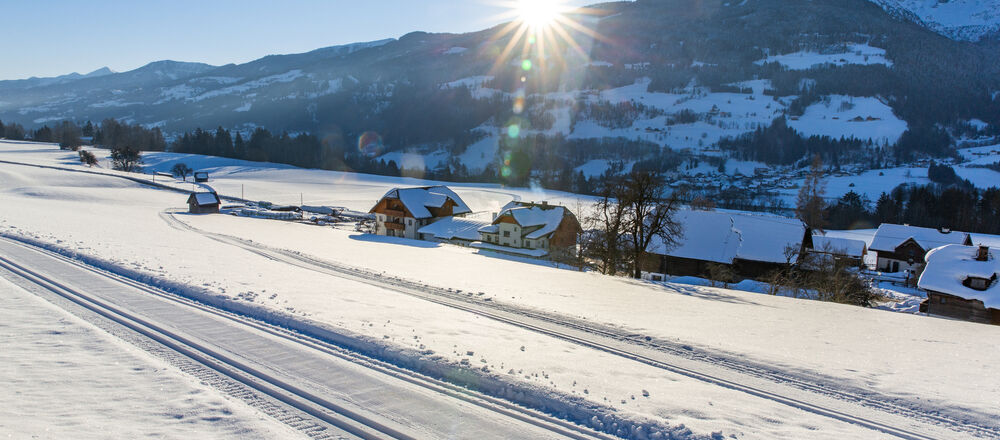 cross-country skiing enjoyment in the valley and on the heights
Village cross-country ski trail
Haus im Ennstal - Aich
Entry point Markt Haus: Haus im Ennstal outdoor adventure pool
/Entry point Aich: Enns bridge in Aich/
Discover a part of the beautiful Enns Valley along the village cross-country ski trail from Haus to Aich. Listen to the soothing lapping of the nearby Enns River and experience a special "winter feeling" as you make your trail in the crunching snow along trees covered in deep snow that tell a winter fairy tale. Stop in one of the cozy villages along the way and get to know rural tradition. Between the cross-country ski trails Haus, Aich and Weißenbach you have to walk a short distance through the "Lärchschachen".
Kufstein cross-country ski trail Weißenbach
entry point: Bierstube in Weißenbach
From the Bierstube a comfortable, slightly ascending cross-country trail leads past the village of Weißenbach in the direction of Rössing (Ramsau). After the turnaround point you walk back to Weißenbach (village center with the village café) or continue to the starting point.
Sonnenloipe Birnberg
Starting point: Gasthof Grundnerhof
From the starting point in an easterly direction to the turn-around loop near the Forsterhof.
For sun lovers we recommend the sunny trail on the Birnberg plateau. Dense spruce forests followed by clearings and meadows, intact nature and silence await the connoisseur.
---
Цены
The use of the cross-country ski trails in the area Haus im Ennstal with Birnberg and Weißenbach and Aich is free of charge.
IMPORTANT: The trails are only groomed with sufficient natural snow!
---
Текущая информация по лыжне
Вебсайт

E-Mail

Телефон

+43 3687 23310
Лыжни Обозрение
4
классические лыжни
28 km
Dörferlanglaufloipe Haus - Aich Dörferlanglaufloipe Haus - Oberhaus Kufsteinloipe Weißenbach Sonnenloipe Birnberg
2
Конькобежные дорожки
16.7 km
Dörferlanglaufloipe Haus - Aich Kufsteinloipe Weißenbach
Прочее
Прокат
Обычные лыжи Сервис
Самые популярные регионы катания на беговых лыжах