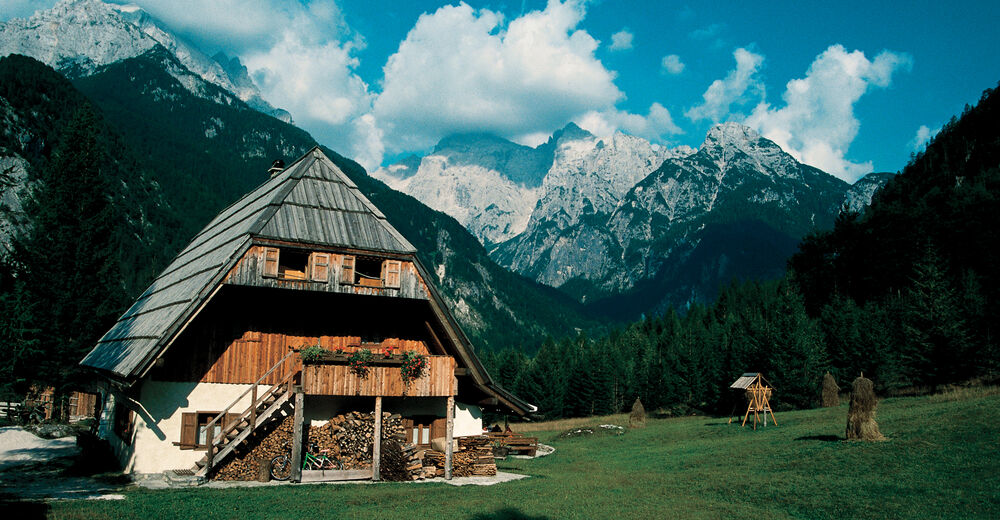 A horseshoe-shaped valley, cut deep into the mountains, opens up into wide gorges.
Along these flow many water sources which feed the Soča River:
the Mlinarica, which thrusts water across almost impassable channels;
the Krajcarica, which does not lose its force when it disappears and then sources again in a multitude of springs;
the Vrsnik with its blue-green pools and
many other water sources which in rainy weather transform the valley into a fairy tale land of a hundred waters.
From the source of the Soča River to Velika korita (the Great gorge) and Mala korita (the Small gorge) there are many typical houses with shingle roofs and wooden outer staircases and balconies.
Their former solitude is now enriched by boarding houses, tourist farms and friendly guest houses.
There are only two villages in the valley:
the village of Soča gained its name from the river,
the elongated village of Trenta gave its name to the whole valley.
Its central part is Na Logu, where the Information centre of the Triglav National Park and guide service, Trenta Museum and the lodge Dom Trenta can be found.
In Zadnja Trenta, the most remote part of the valley, in a basin, we can find Zapotok - a 180 m high steep rock face boasting the highest waterfall in the Triglav National Park.
The Soča River chisels its most remarkable troughs near the village of Soča where the Velika korita are located.
These are 750 m long and plunge to a depth of 15 m between the sides that are, in places, only 2 m apart.
A little higher up the Soča River carves out Mala Korita (small gorge), about 100 m long, up to 6 m deep and in places no more than 1 m wide.
Quelle: www.slovenia.info/en/Orte-Sloweniens/Trenta-.htm?_ctg_kraji=2778&lng=2&redirected=1
---
Советы для досуга Trenta
Показать все советы по организации досуга
---
Контакт Trenta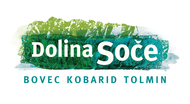 Info Zentrum Bovec
Trg golobarskih žrtev 22, SI-5230 Bovec
Телефон

Начальная страница
E-Mail
Населенные пункты Goriška
Веб-камеры