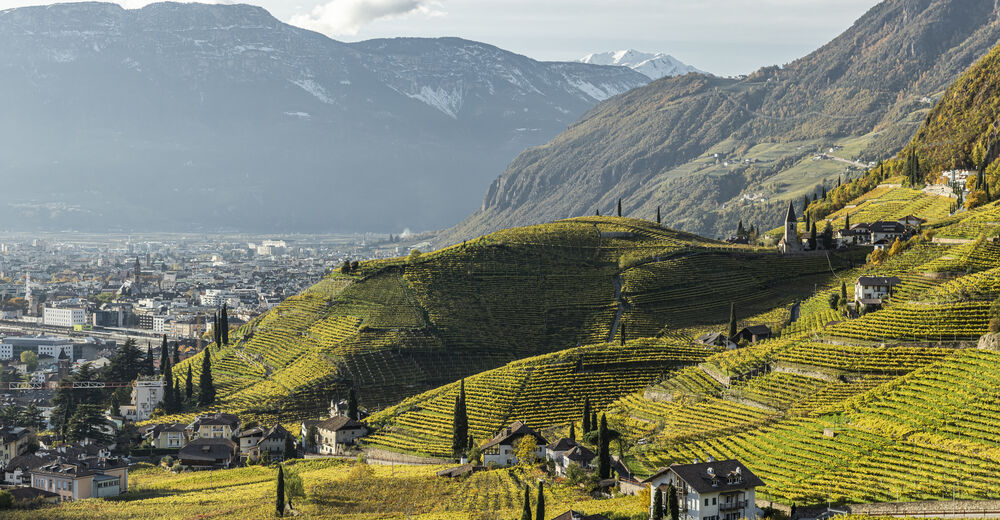 Bolzano and environs:
Wander through vineyards and gorges
Again and again, the Bolzano/Bozen and environs region shows itself from yet another angle, just waiting to be explored. You can go by bike or on foot – whatever takes your fancy
Bolzano and environs will amaze even the true connoisseur of the region time and time again with a combination of nature, art, culture and 'hidden treasures'. Without haste and entirely at your own pleasure, you can set off on hikes or cycle tours to experience the region's breath taking, mystical and historic landscapes. And what there is to see is both exciting and informative.
Climbing and hiking
Exploring Bolzano and environs on foot will give you a zeal for nature. Reluctant ramblers will suddenly become avid enthusiasts, because there is such a lot to discover. So much, in fact, that special theme tours have been established in Alto Adige/South Tyrol to explain features of the region to walkers. The Sentiero della pace/Friedensweg 'peace path', for example, goes from the centre of the village of Caldaro/Kaltern through forest and fields in the Kardatschertal valley or over the wild Rastenbachklamm gorge to San Pietro di Castelvecchio/St. Peter in Altenburg. Artists designed five of the seven 'points of contemplation' that invite walkers to pause for a moment along their way for meditation and wonder. The sixth point, which symbolizes courage, is the Rastenbachklamm gorge itself. The old ruined church of San Pietro di Castelvecchio is the seventh point and symbolizes 'love'.
You will experience nature of a very different sort on the Renon/Ritten mountain theme tour. Anyone hiking along here will learn about the comings and goings of the Renon earth pyramids, which are thousands of years old and made of moraine boulder clay from the late Ice Age. Special information panels along the way explain the features of the Renon, this relatively flat, south-facing high plateau. And while we are on the subject of the Renon, we must not, of course, forget South Tyrol's last working narrow gauge railway – the 'Rittner Bahnl' (trenino del Renon). This railway has been carrying holidaymakers to the top of Bolzano's home mountain since 1907, and at the station in Maria Assunta/Maria Himmelfahrt, you can thus read all sorts of interesting information about that once most exclusive form of getaway, the idea for which is believed to have originated here – the summer resort.
On a hike through the Geoparc Bletterbach – Dolomites UNESCO World Heritage, you might be forgiven for thinking you are in the Rocky Mountains. Between the villages of Aldino/Aldein and Redagno/Radein, the Bletterbach has formed one of the most impressive and geologically interesting gorges in Europe. Over the course of millennia, the water course has carved its way more than 400 metres into the different geological layers of stone along a stretch of twelve kilometres, involving a change in altitude of 2000 metres. In the highest and most spectacular section, the gorge widens to up to 500 metres across, before ending at an almost vertical 600-metre high rockface rising to the summit of the Corno Bianco/Weißhorn mountain.
www.bolzanosurroundings.info
---
---
Советы для досуга Bozen und Umgebung - Südtirols Süden
Показать все советы по организации досуга
---
Контакт Bozen und Umgebung - Südtirols Süden
Südtirol Information
Südtiroler Straße 60, I-39100 Bozen
Телефон

Начальная страница
E-Mail
Запрос и Заказ проспекта Проживание
Населенные пункты Bozen und Umgebung - Südtirols Süden
Озера Bozen und Umgebung - Südtirols Süden
Подвесные канатные дороги Работа в летнее время
Проживание Bozen und Umgebung...
26 Предложения и Паушальные суммы
Предложения и Паушальные суммы Bozen und Umgebung - Südtirols Süden
Веб-камеры