Hotel Landgraf
8970 Schladming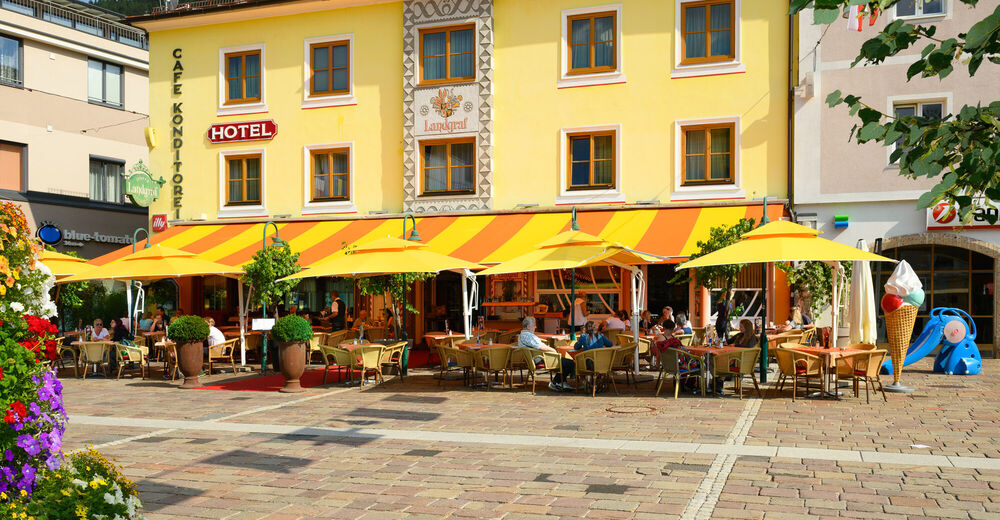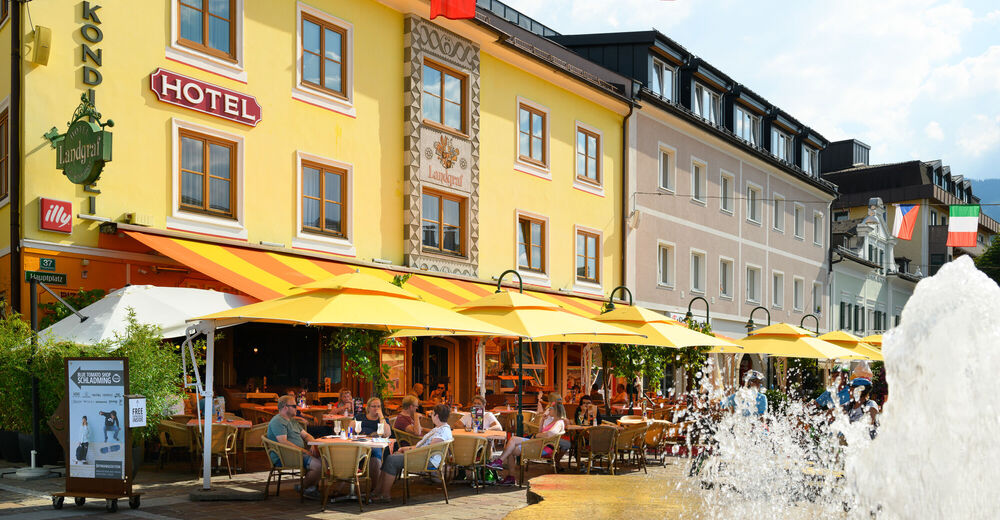 © GRUBER MICHAEL
© LG
© GRUBER MICHAEL
Отель
25 К-во кроватей, 10 Номер

Familie Graf

Hauptplatz 37, 8970 Schladming
Welcome to the B&B Landgraf Schladming*** - Apartments & Rooms
Graf family and team welcome you
Landgraf is a small B&B on the main square in the center of Schladming.
Here you will find an in-house pastry shop, which will tempt you with sweet treats, and a restaurant with a balanced, healthy cuisine.
The friendly and spacious rooms are comfortably furnished. The attractive sun terrace is the focus of Schladming's main square.
The B&B is centrally located in the Schladming pedestrian zone. The Planaibahn is only 5 minutes walking distance. Many restaurants and shops, as well as the water park and the biggest Aprés Ski Partyhouse of Austria, "die Tenne" are located in close proximity.
We would also like to recommend a beautiful walk to our orig. styr. Inn "Die Landalm" - Talbachklamm - about 30-40 minutes walk.
General:
Restaurant, Bar, Newspapers, Terrace, Non smoking rooms, Express Check-In/Check-Out, Heating, Ski Storage, Designated Smoking Area
Activities nearby:
Steam Sauna, Golf Course (within 3 km), Skiing, Hiking, Cycling, Horse Riding, Mini Golf, Ski School
Services:
Breakfast service v. 7,30-10h. Internal breakfast with cereal corner.
Handing over the keys - reception or restaurant .
Key or room card loss € 40.
Use for parking card € 30.
Cost per parking card € 5.
Room Service, Fax/Photocopying
Internet:
Wireless internet for free!
Cabel TV (+Info-channel)
Hotel Policies:
These are gerneral hotel policies for B&B Landgraf. Please check the room description for details.
Check In: 14:00 - 22:30
Check Out: 07:00 - 11:00
The International Reservation Conditions apply.
Late cancellations will be charged with the price of the first night.
No-show is charged with the total amount – excluding the amount of the fee and breakfast.
Hotel bookings possible via portals
Hotel bookings directly through the hotel with a deposit or insurance cover.
Last minute - no down payment, we also allocate rooms with a single night - surcharge of € 4.- p. P.
We always put the latest offers on our homepage.
Allgemeine Verfügbarkeit Hotel Landgraf
Zwischenzeitlich gibt es immer wieder Freibelegungen für unsere Zimmer und Appartements .
Wir bieten tolle Preis für das Stadtzentrum an. Sie erhalten eine Parkcard - wenn Sie mit dem Auto anreisen.
Das Restaurant ist im Hotel. Zimmer im 2. Hotel bis 12. Nov. und an Beginn der Schneesaison .
Wir freuen uns auf eine Anfrage.
сентября 2021
KW
Пн
Вт
Ср
Чт
Пт
Сб
Вс
1
2
3
4
5
6
7
8
9
10
11
12
13
14
15
16
17
18
19
20
21
22
23
24
25
26
27
28
29
30
октября 2021
KW
Пн
Вт
Ср
Чт
Пт
Сб
Вс
1
2
3
4
5
6
7
8
9
10
11
12
13
14
15
16
17
18
19
20
21
22
23
24
25
26
27
28
29
30
31
ноября 2021
KW
Пн
Вт
Ср
Чт
Пт
Сб
Вс
1
2
3
4
5
6
7
8
9
10
11
12
13
14
15
16
17
18
19
20
21
22
23
24
25
26
27
28
29
30
декабря 2021
KW
Пн
Вт
Ср
Чт
Пт
Сб
Вс
1
2
3
4
5
6
7
8
9
10
11
12
13
14
15
16
17
18
19
20
21
22
23
24
25
26
27
28
29
30
31
января 2022
KW
Пн
Вт
Ср
Чт
Пт
Сб
Вс
1
2
3
4
5
6
7
8
9
10
11
12
13
14
15
16
17
18
19
20
21
22
23
24
25
26
27
28
29
30
31
февраля 2022
KW
Пн
Вт
Ср
Чт
Пт
Сб
Вс
1
2
3
4
5
6
7
8
9
10
11
12
13
14
15
16
17
18
19
20
21
22
23
24
25
26
27
28
марта 2022
KW
Пн
Вт
Ср
Чт
Пт
Сб
Вс
1
2
3
4
5
6
7
8
9
10
11
12
13
14
15
16
17
18
19
20
21
22
23
24
25
26
27
28
29
30
31
апреля 2022
KW
Пн
Вт
Ср
Чт
Пт
Сб
Вс
1
2
3
4
5
6
7
8
9
10
11
12
13
14
15
16
17
18
19
20
21
22
23
24
25
26
27
28
29
30
Цены
| Зима | Основной сезон | Vor-/Nebensaison |
| --- | --- | --- |
| Ночевка | 60 € до 70 € | 50 € до 60 € |
| с завтраком | 70 € до 80 € | 60 € до 70 € |
| Полупансион | - | - |
| All-inclusive | - | - |
| Лето | Основной сезон | Vor-/Nebensaison |
| --- | --- | --- |
| Ночевка | 45 € до 55 € | 45 € до 55 € |
| с завтраком | 55 € до 68 € | 55 € до 65 € |
| Полупансион | - | - |
| All-inclusive | - | - |
prices for kids / winter 2020/2021
0-3 years: € 0,00
4-5 years: € 20,00
6-8 years: € 40,00
9-15 years: € 45,00
prices for kids / Sommer 2021
0-3 years: € 0,00
4-5 years: € 20,00
6-8 years: € 25,00
9-15 years: € 40,00
small dogs allowed: € 15,00 per day without feed
late check out (after agreement with reception team): € 20,00 per room
hotel fee: € 1,50 per person per day
short term surcharge: € 4,00 per person under 2 nights
charge for parking € 5,00 + deposit for parking ticket € 50,00
Отель
25 К-во кроватей, 10 Номер

Familie Graf

Hauptplatz 37, 8970 Schladming
Номер/Апартаменты
Виды платежа

Cash, Visa, Hobex