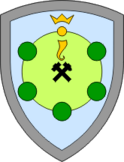 Peca Underground - Lead and zink mine Mežica
© Tomo Jesenicnik - Tomo Jesenicnik
© Tomo Jesenicnik
© TOMO JESENICNIK
© Tomo Jeseničnik
© Andrej Rečnik
Ready for hiking, biking or kayaking trough a mine? In kingdom of King Matjaž, who sleeps underneath the mountain Peca, you can have it all.
The Information Centre in Mežica gives the Geopark Karavanke a significant added value because it represents a central point or the heart of the Geopark. At the same time, it also serves as an important additional offer for showing the mine and museum in Mežica. It is a place where all visitors of the Podzemlje Pece Tourist Mine and Museum are welcome. Various events are organized in the multipurpose area: from interesting workshops for children to exhibitions and different events. Important information and videos about the Koroška region and the Geopark are shown on multiple monitors. A variety of snacks is also provided, and authentic souvenirs can be bought.
An adventure park with dinosaurs, King Matjaž, a mining area, and crystals you can climb on
There is a theme park in front of the mine, offering the possibility to travel millions of years back to the time of the dinosaurs, as well as back to the time of King Matjaž. 220 million years ago, this area was covered by a vast lake. By visiting the labyrinth of King Matjaž, you can learn more about this historical figure as well as read interesting stories about him.
Mine tour by train
Put on your mining equipment and take a ride on a genuine mining train right to the heart of the mine. Accompanied by an experienced guide, you then head for the tourist trail to find out more about the history of mining. Numerous exhibited objects reveal the everyday work and lives of miners. Upon request, a real miner's lunch or breakfast can even be served.The entire tour lasts from 1 hour and 45 minutes to 2 hours.
Mine tour by bike
Mountain bikes were made for trips on mountains but here you can go on a trip through a mountain. Accompanied by a guide, you travel on a path crossing abandoned and mysterious mining tunnels under the Petzen / Mt. Peca. An experienced guide safely takes you from one valley to another on the underground route that is more than 5 kilometres long. Get ready to experience an unforgettable adventure! The bike ride begins after you are greeted by your guide in front of the Karavanke/Karawanken Geopark Information Centre in Glančnik/Mežica. Together with the guide, you go to the point of entry to Igrčevo / Črna na Koroškem where you enter the mine. After the bike tour, you leave the mine in Breg in Mežica. There is a constant temperature of 10 °C in the mine. The entire tour takes about 2.5 hours. The age limit is 10 years. The mine bike tour is possible by prior arrangement only!
BLACK HOLE TRAIL
Black Hole Trail is designed to pose a challenge and offer an adventure to experienced mountain bikers. The trail is super technical, but there are some nice and flowy sections where a rider can rest and enjoy views of the black chambers. If parts of the descent prove too challenging it is easy to walk through them and jump back on the bike afterwards.
Контактная информация
Обширная информация:
https://www.podzemljepece.com/
Отправить запрос :
info@podzemljepece.com