Hotel Pariente
8971 Rohrmoos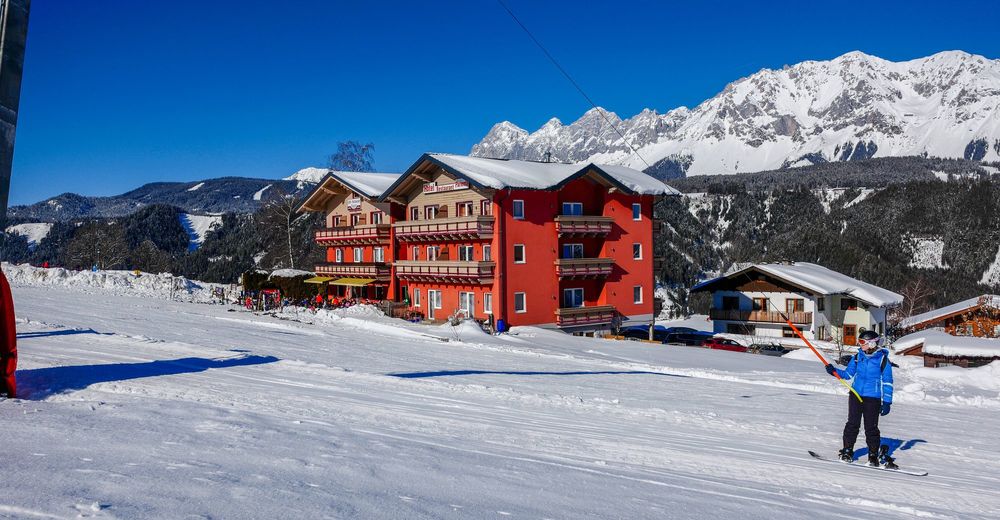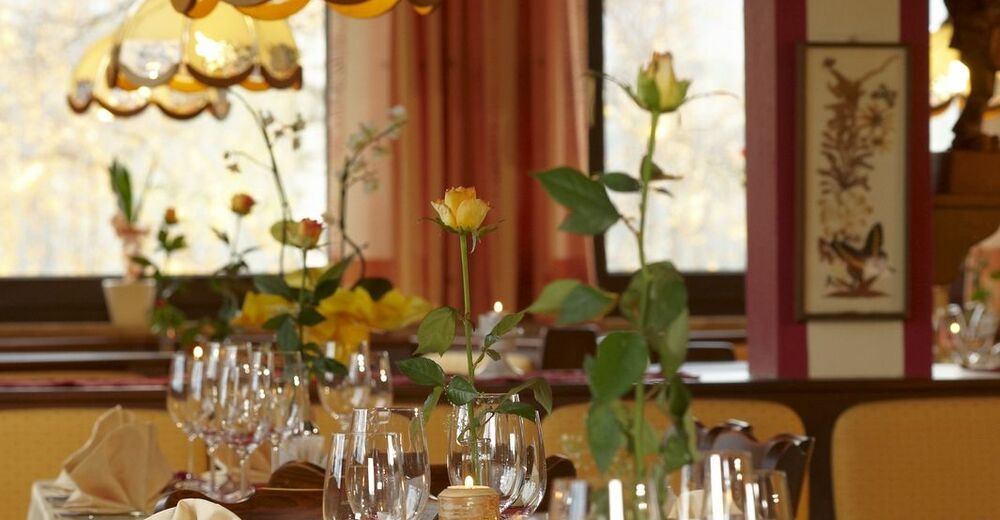 © Algo
© Algo
© Combiente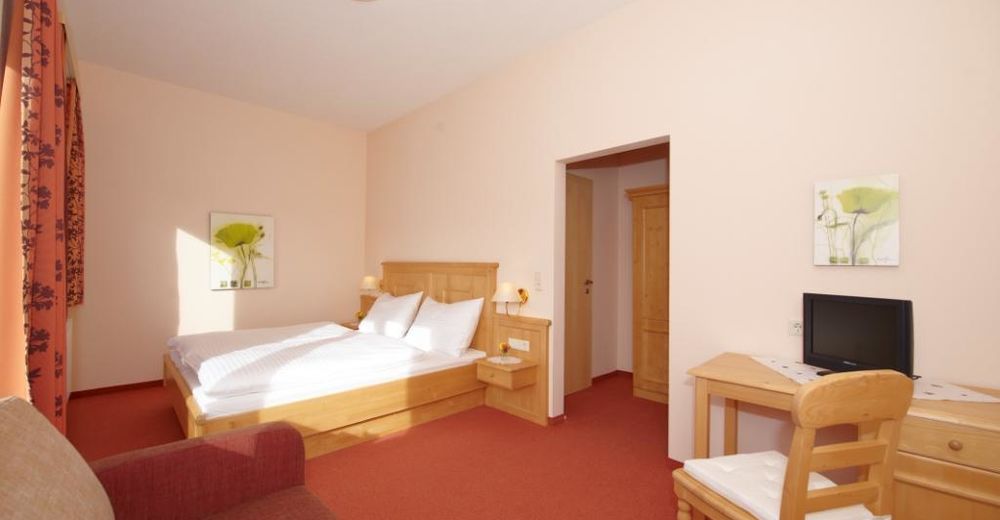 © Algo
© Hotel Pariente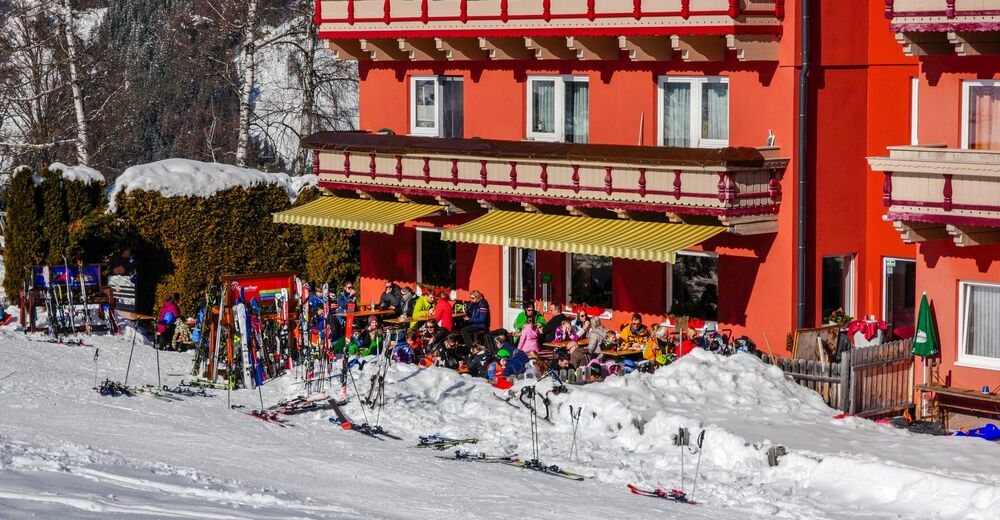 © Foto Tom
© Hotel Pariente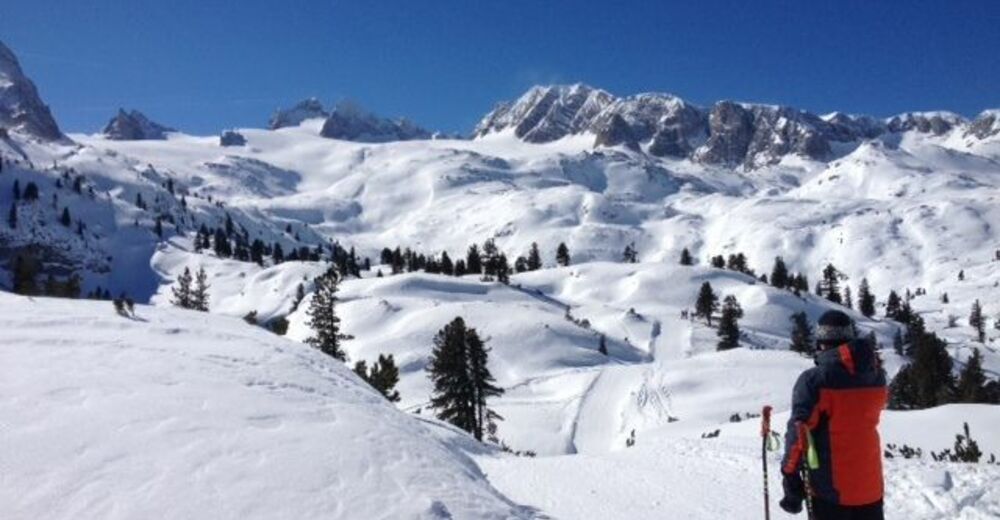 © Hotel Pariente
© Foto Tom
Отель

41 К-во кроватей, 20 Номер

Rene Pariente
Welcome to our hotel Pariente in Schladming-Rohrmoos, the most beautiful place with a fantastic view to the Dachstein-mountain.
Position:
"Holiday on the slope"... isn´t just a slogan: it´s true, our hotel is located near the "Erlebniswelt", not far from the skischool, between two slopes, beside of the chairlift and t-bar lift to the Hochwurzen. In front of the hotel there is
also a slope for beginners and children.
It is possible skiing from the slope directly to the hotel.
Hotel restaurant Pariente - rooms:
Tastefully and modern furnished.
All of our rooms are tastefully furnished, with king-size beds of solid wood, a studio couch, cable tv and a little writing desk.
On demand it is possible to use the studio couch as a bed for two persons. We are happy to put a cot in the room for your child.
The rooms to north have a fantastic view to the Dachsteinmountain and the upper Ennstalvalley with the little town Schladming. The rooms to the east and south allows you a look to our skimountains Planai and Hochwurzen, and to the picturesque Ober- and Untertal.
Hotel restaurant Pariente - Spa:
Small but powerful is our new created spa- area.
It is the indirect lighting and soothing colors that makes the room so reposful, something it´s well deserved after being on the slopes.
The vapour-bath and sauna is good for your health!
Sauna and vapour-bath is open from 4 p.m. till 8 p.m.
Chill out after a day on the wide slopes from Hochwurzen and Planai - our spa is waiting for you!
It is possible to borrow a bathrobe at the receptiondesk at a rate of € 5,- during your stay.
Our restaurant Hotel Pariente:
Our dishes are just waiting to melt in your mouth! We are cooking with local products, traditional but also up to date!
The executive chef Rene and chef steward Andy, both head of business, are taking care for your well-being.
Of course you can take your dinner from the menu.
The team of Hotel Pariente is pleased to meet you here in Rohrmoos!
Your family Pariente
Videos
02:26
Allgemeine Verfügbarkeit Hotel Pariente
по запросу
имеющийся в распоряжении
не доступна
закрытыеfr
ноября 2022
KW
Пн
Вт
Ср
Чт
Пт
Сб
Вс
1
2
3
4
5
6
7
8
9
10
11
12
13
14
15
16
17
18
19
20
21
22
23
24
25
26
27
28
29
30
Предложения Зима Hotel Pariente
Цены
Zwischensaison Ostern
08.01.2022 - 28.01.2022 05.03.2022 - 11.03.2022 09.04.2022 - 17.04.2022
Doppelzimmer standard (Double Room)
pro Person / pro Nacht
| Полупансион
0-2 Jahren - 100 % с 0,00 €
3-5 Jahren - 50 % с 51,50 €
6-11 Jahren - 30 % с 72,10 €
12-17 Jahren - 10 % с 92,70 €
Ortstaxe
pro Person / pro Nacht
Aufenthaltsdauer
до 3 Übernachtungen
Babybetten
макс. 1 zulässig
+ 15,00 €
pro Количество / pro Ночь
Personenanzahl
до 1 Person
Doppelzimmer de Luxe (Junior Suite)
pro Person / pro Nacht
| Полупансион
0-2 Jahren - 100 % с 0,00 €
3-5 Jahren - 50 % с 58,00 €
6-11 Jahren - 30 % с 81,20 €
12-17 Jahren - 10 % с 104,40 €
Ortstaxe
pro Person / pro Nacht
Aufenthaltsdauer
до 3 Übernachtungen
Babybetten
макс. 1 zulässig
+ 15,00 €
pro Количество / pro Ночь
Personenanzahl
до 1 Person
Einzelzimmer Standard (Single room)
pro Person / pro Nacht
| Полупансион
Ortstaxe
pro Person / pro Nacht
Aufenthaltsdauer
до 3 Übernachtungen
Babybetten
макс. 1 zulässig
+ 15,00 €
pro Количество / pro Ночь
Hauptsaison Winter
29.01.2022 - 04.03.2022
Doppelzimmer standard (Double Room)
pro Person / pro Nacht
| Полупансион
0-2 Jahren - 100 % с 0,00 €
3-5 Jahren - 50 % с 52,00 €
6-11 Jahren - 30 % с 72,80 €
12-17 Jahren - 10 % с 93,60 €
Ortstaxe
pro Person / pro Nacht
Aufenthaltsdauer
до 3 Übernachtungen
Babybetten
макс. 1 zulässig
+ 15,00 €
pro Количество / pro Ночь
Personenanzahl
до 1 Person
Doppelzimmer de Luxe (Junior Suite)
pro Person / pro Nacht
| Полупансион
0-2 Jahren - 100 % с 0,00 €
3-5 Jahren - 50 % с 62,00 €
6-11 Jahren - 30 % с 86,80 €
12-17 Jahren - 10 % с 111,60 €
Ortstaxe
pro Person / pro Nacht
Aufenthaltsdauer
до 3 Übernachtungen
Babybetten
макс. 1 zulässig
+ 15,00 €
pro Количество / pro Ночь
Personenanzahl
до 1 Person
Einzelzimmer Standard (Single room)
pro Person / pro Nacht
| Полупансион
Ortstaxe
pro Person / pro Nacht
Aufenthaltsdauer
до 3 Übernachtungen
Babybetten
макс. 1 zulässig
+ 15,00 €
pro Количество / pro Ночь
Nebensaison Winter
12.03.2022 - 08.04.2022
Doppelzimmer standard (Double Room)
pro Person / pro Nacht
| Полупансион
0-2 Jahren - 100 % с 0,00 €
3-5 Jahren - 50 % с 49,50 €
6-11 Jahren - 30 % с 69,30 €
12-17 Jahren - 10 % с 89,10 €
Ortstaxe
pro Person / pro Nacht
Aufenthaltsdauer
до 3 Übernachtungen
Babybetten
макс. 1 zulässig
+ 15,00 €
pro Количество / pro Ночь
Personenanzahl
до 1 Person
Doppelzimmer de Luxe (Junior Suite)
pro Person / pro Nacht
| Полупансион
0-2 Jahren - 100 % с 0,00 €
3-5 Jahren - 50 % с 57,00 €
6-11 Jahren - 30 % с 79,80 €
12-17 Jahren - 10 % с 102,60 €
Ortstaxe
pro Person / pro Nacht
Aufenthaltsdauer
до 3 Übernachtungen
Babybetten
макс. 1 zulässig
+ 15,00 €
pro Количество / pro Ночь
Personenanzahl
до 1 Person
Einzelzimmer Standard (Single room)
pro Person / pro Nacht
| Полупансион
Ortstaxe
pro Person / pro Nacht
Aufenthaltsdauer
до 3 Übernachtungen
Babybetten
макс. 1 zulässig
+ 15,00 €
pro Количество / pro Ночь
Doppelzimmer standard (Double Room)
pro Person / pro Nacht
| Полупансион
Ortstaxe
pro Person / pro Nacht
Babybetten
макс. 1 zulässig
+ 15,00 €
pro Количество / pro Ночь
Personenanzahl
до 1 Person
Doppelzimmer de Luxe (Junior Suite)
pro Person / pro Nacht
| Полупансион
Ortstaxe
pro Person / pro Nacht
Babybetten
макс. 1 zulässig
+ 15,00 €
pro Количество / pro Ночь
Personenanzahl
до 1 Person
Einzelzimmer Standard (Single room)
pro Person / pro Nacht
| Полупансион
Ortstaxe
pro Person / pro Nacht
Babybetten
макс. 1 zulässig
+ 15,00 €
pro Количество / pro Ночь
Виды платежа
Примечания:
Nächtigungsabgabe pro Erwachsenen und Nacht € 1,50
Kinder von 0-2,99 Jahre im Zimmer der Eltern frei!
3-5,99 Jahre 50% Nachlass im Zimmer der Eltern
6-11,99 Jahre 30% Nachlass im Zimmer der Eltern
ab 12 Jahren 10% Nachlass im Zimmer der Eltern
Kinder im eigenen Zimmer bezahlen den Normalpreis
Gitterbett pro Aufenthalt € 15,00
Aufpreis Silvester Galamenü: € 15,00 pro Person
Late Check out nach Verfügbarkeit: € 25,00/Person
Отель

41 К-во кроватей, 20 Номер

Rene Pariente
Номер/Апартаменты
Виды платежа

Bar, EC, Kreditkarte