Проживание
Schladming - Appartements
- Schladming-Rohrmoos
Schladming - Appartements
8970 Schladming
© TIEBER - Tieber Michael
© TIEBER - Tieber Michael
© Schladming-Appartements
© (C)2009 {your name}, all rights reserved - {your name}
© TIEBER - Tieber Michael
© TIEBER - Tieber Michael
© TIEBER - Tieber Michael
© TIEBER - Tieber Michael
Апартаменты / Коттеджи (для проведения каникул) / Проживание групп / Chalet

60 К-во кроватей, 250 Номер, 250 Апартаменты

Schladming-Appartements

Erzherzog-Johann-Strasse 248 A, 8970 Schladming
Over 250 selected and private Holiday Homes in the Region Schladming-Dachstein!
CAREFREE PACKAGE – Winter 2020-2021
In order to look forward to a carefree & safe vacation, we have considered an extra portion of attention & service.
Free cancellation up to 2 days before arrival all winter (15.11.2020-25.04.2021)
Our Extra portion service
Bread delivery & breakfast service, delivered in a breakfast basket with your orders
CATERING - direct delivery to the apartment
Shopping service, beverage service or fridge filling
Contactless check-in
Ski ticket service in all our receptions and service office
Tips & recommendations for a safe vacation
Detailed information Carefree Package: www.schladming-appartements.at/en/Accommodation/Carefree-Package
MORE SPACE. MORE PRIVACY. MORE COMFORT.
Especially families, couples, singles or groups of friends appreciate our self-catering holiday homes! Those completely furnished homes offer any kind of comfort, are fully equipped starting with technical interior right through to modern kitchens and are finally easily to reach! We offer holiday residences matching any taste, budget and number of people in the Schladming-Dachstein Region.
HOLIDAY HOUSES & CHALETS
We provide holiday houses for 2 up to 50 people, exceeding any expectations of smaller or larger families: from the 300m² wooden dream of luxury located right beside slopes, via most charming chalets indulging you with plenty of space right in the centre of Schladming, through to idyllic villages made of cosy huts and cottages.
HOLIDAY HOMES & APARTMENTS
Just choose: beautiful modern city apartments, magnanimous country style holiday rentals at top quality locations, lovely apartments for two or finally luxury penthouse apartments.
HOMELY ALP SHACKS
Experience your very private magic of mountain huts. The shielings and alps as part of your idyllic natural landscape will perfectly match your dream of typical Austrian holidays. Rustic or advanced comfortable will finally depend on your very own choice.
APARTHOTELS
Apartments with service. Enjoy privacy combined with magnanimity and get spoiled by spa, breakfast service, half board or children´s program. Our aparthotels Sun Lodge and Chalets Coburg are located in Schladming, only 5 driving minutes far from the Valley Station and directly on the slope of the Planai.
-XXL GROUP ACCOMMODATIONS UP TO 120 PEOPLE
-LUXURY PREMIUM HOLIDAY HOMES
-LOW BUDGET HOLIDAY HOMES
-SKI-IN/SKI-OUT HOLIDAY HOMES
-IN MANY OF OUR HOLIDAY DOMICILES IT´S ALLOWED TAKING YOUR DOG WITH YOU
Videos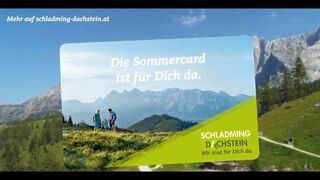 00:50
02:02
Schladming-Dachstein Summercard is inclusive!
We are familiar with all our accommodation and know all about its equipment, condition and peculiarities.
We are on location 24 hours per day, 365 days per year.
We bring you safely and in person to your holiday home and we are there for you if you have any questions/problems.
Best price guarantee & inclusive prices
Schladming-Appartements Bonuscard with many benefits and discounts at our Discount-Partners!
Free Wi-Fi in nearly 99% of our holiday homes!
Private parking lots in almost all our apartments!
Baby cot and high chair on request and availability!
Pets are in many apartments permitted - just ask!
Non-smoking apartments!
Roll service bookable at arrival in our office!
On arrival we charge a security deposit of € 100 - € 400 via credit card authorization.
Bedlinen & towels, final cleaning and the local tax are inclusive in the offer price.
Доступность Schladming - Appartements
по запросу
имеющийся в распоряжении
Цены
| Зима | Основной сезон | Vor-/Nebensaison |
| --- | --- | --- |
| Ночевка | 70 € до 800 € | 60 € до 800 € |
| с завтраком | - | - |
| Полупансион | - | - |
| All-inclusive | - | - |
| Лето | Основной сезон | Vor-/Nebensaison |
| --- | --- | --- |
| Ночевка | 50 € до 420 € | 50 € до 420 € |
| с завтраком | - | - |
| Полупансион | - | - |
| All-inclusive | - | - |
Другая информация
Ortstaxe
pro Person / pro Nacht
The prices are per object and season and depends on the type of holiday home - send us a request and we will send you some offers!
Prices are exclusive:
Local Tax
Bed linen and towels
Final cleaning between € 50 and € 400 different per holiday home
and inclusive:
Schladming-Appartements Bonuscard
in Summer inclusive Schladming-Dachstein Summercard
20% Deposit payment must be paid within 14 days!
Апартаменты / Коттеджи (для проведения каникул) / Проживание групп / Chalet

60 К-во кроватей, 250 Номер, 250 Апартаменты

Schladming-Appartements

Erzherzog-Johann-Strasse 248 A, 8970 Schladming
Виды платежа

Cash payment/ EC-Cash/ Maestro/ Credit card - Visa or Mastercard/ Bank transfer/ Pre payment