Loipe Boden und Engstligenalp gespurt.
Derzeitiger Betrieb: Ежедневно
Adelboden has to offer its nordic lovers guests various Cross Country trails in Boden and at the Engstligenalp :
Engstligenalp is the largest plateau of the western Swiss Alps. Due to its altitude of 1900 - 2000 m, it offers a high probability of snow. It can be reached by cable car.
Trails Engstligenalp:
5.5 km Läger trail, 2.5 km Sun trail; Light; classic and skating
Snow-sure altitude trail at 2000 m asl
Accessibility: With the local bus to Birg, cable car Engstligenalp
www.engstligenalp.ch
Trails Boden:
2 km; Light; classic and skating
9 km; Easy-Moderate, classic and skating
7.5 km trail Unterbirg, Medium, classic and skating (short sections of oncoming traffic)
Accessibility: Local bus Boden
---
Цены
Langlaufpässe:
Tageskarte: CHF 10, mit Gästekarte CHF 7
Wochenkarte (7 Tage): CHF 30
Langlaufpass Adelboden: CHF 50
Langlaufpass Schweiz: CHF 160
Verkaufsstellen Langlaufpässe:
Tourist Center Adelboden, Loipenwart, Wildstrubel Lodge, Hotel Alpina, Talstation Engstligenalp.
---
Videos
---
Текущая информация по лыжне
Вебсайт

E-Mail

Телефон

+41 (0)33 6738080
3
классические лыжни
21 km
13 km Boden / 8 km Engstligenalp
3
Конькобежные дорожки
21 km
13 km Boden / 8 km Engstligenalp
1
Лыжни с освещением
2 km
Beleuchtet, Di.-Do.17.30- 21.00 Uhr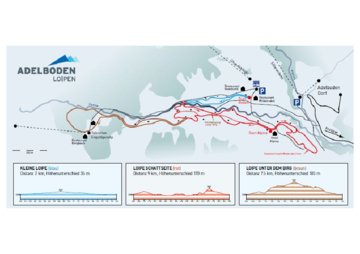 Прочее
info@oestersport.ch; info@harisport.ch; skiservice@gmx.ch
info@oestersport.ch; info@harisport.ch; skiservice@gmx.ch
Контакт
Туристическое бюро
TALK (Tourismus Adelboden-Lenk-Kandersteg) AG
Адрес

Dorfstrasse 23, CH-3715 Adelboden

Телефон

+41 (0)33 6738080

Факс

+41 (0)33 6738092

E-Mail

Homepage